Vacation Rentals in Whistler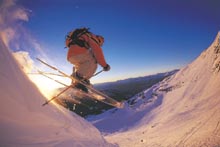 Whistler, British Columbia, Canada, North America's number one rated ski resort destination is located 90 minutes north of Vancouver. A scenic drive along the West Coast Sea to Sky highway brings you directly to Whistler and hundreds of vacation rentals and vacation accommodation options. The history of Whistler has seen it grow from a municipal dump into a world class resort. In the early days of Whistler, winter was the season of choice. However, as the area grew Whistler became a year round vacation destination. The year round popularity of Whistler makes the vacation rental market very competitive ensuring that Whistler vacation rentals are second to none when it comes to quality accommodations. For this years ski season Whistler / Blackcomb have improved snowmaking, grooming, built a new tube park on Blackcomb, and have made wider out-runs back down to the village. Begin your Whistler vacation rental search by viewing one of the available properties below.
Your search for Whistler Vacation Rentals has produced the following results. To view any of the vacation properties, just click view this property. Once you have found a property you are interested in, contact the owner, book it, and go on vacation. It is that simple to find your next Whistler vacation rental at Where2go2.Com.
You are here: North America -> Canada -> British Columbia -> Whistler Vacation Rentals
Your search returned 10 rental properties for Whistler
| | |
| --- | --- |
| The Treeline is a beautiful,modern townhome complex,nestled in the woods on Blackcomb Mtm. Vacation Rental House - Property ID#19 | |
| | |
House
Bedrooms: 4, Sleeps 11
Bathrooms: 3


View Details / Contact Info


Call Kerry Now:
(604) 938-0588
| | |
| --- | --- |
| Treeline is a delux townhome,nestled in the woods on Blackcomb Mtn. Vacation Rental House - Property ID#20 | |
| | |
House
Bedrooms: 3, Sleeps 10
Bathrooms: 2


View Details / Contact Info


Call Kerry Now:
(604) 938-0588
| | |
| --- | --- |
| Our Whistler Retreat Vacation Rental Condo - Property ID#46 | |
| | |
Condo
Bedrooms: 3, Sleeps 8
Bathrooms: 3


View Details / Contact Info


Call Ann Now:
480-209-1220
| | |
| --- | --- |
| Snowbird 101 is a luxury Whistler vacation rental a short walk from Blackcomb's main ski lift Vacation Rental Beach House - Property ID#127 | |
| | |
Beach House
Bedrooms: 2, Sleeps 6
Bathrooms: 2


View Details / Contact Info


Call Tom Now:
1-604-926-7905
| | |
| --- | --- |
| Whistler Powderhorn Resort - Luxury Ski-in Ski-out Condo Vacation Rental Condo - Property ID#189 | |
| | |
Condo
Bedrooms: 1, Sleeps 4
Bathrooms: 1


View Details / Contact Info


Call Libby Now:
604-541-2706
| | |
| --- | --- |
| Whistler Arrowhead Point Ski Accommodations 3 bedroom 2 bath ski in/out private hot tub sleeps 9 Vacation Rental Condo - Property ID#496 | |
| | |
Condo
Bedrooms: 3, Sleeps 9
Bathrooms: 2


View Details / Contact Info


Call Wendy Now:
985-845-0716
| | |
| --- | --- |
| Townhouse with Ski-in/Ski-out to Whistler & Blackcomb, Hot-Tub, Walk to Village, 4 Bedrooms Vacation Rental Condo - Property ID#527 | |
| | |
Condo
Bedrooms: 4, Sleeps 10
Bathrooms: 3


View Details / Contact Info


Call David or Jonathan Now:
604-818-7125
| | |
| --- | --- |
| Newly Renovated Ski-in, Ski-out Penthouse Condo at Glacier Lodge Vacation Rental Condo - Property ID#544 | |
| | |
Condo
Bedrooms: 3, Sleeps 8
Bathrooms: 2


View Details / Contact Info


Call Ming & Michael Now:
2062356308
| | |
| --- | --- |
| Glaciers Reach luxury townhouse in the Heart of whistler village 2Bd/2BTHrm Slps 7 Priv Hot Tub Vacation Rental Condo - Property ID#577 | |
| | |
Condo
Bedrooms: 2, Sleeps 7
Bathrooms: 2


View Details / Contact Info


Call Malaysia Now:
604-805-3423
| | |
| --- | --- |
| Tremendous Spring Ski Rates, starting at $155/night Vacation Rental Condo - Property ID#629 | |
| | |
Condo
Bedrooms: 2, Sleeps 6
Bathrooms: 2


View Details / Contact Info


Call Monique Now:
360-989-9835